Evolution of telcos geographical expansion
Until recently it was common for growing carriers to deploy remote point-of-presence in the country of interest. Main purpose of such deployment was to realize savings from running TDM circuits and also get perceived advantages associated with "presence" in the country of interest.
Such business model is now replaced by "carrier hotels" – large carrier-neutral colocation facilites and, increasingly, by hosted switching service that combines colocation services and equipment rental/leasing.
Network expansion evolution got on a way of lowering capital expenses and lowering operational risk. Hosted switching solutions provide zero capital expediture solution with expenses tight to revenues from the new project.
R&R Virtual POP solution
R&R is a leading virtual Point-of-Presence (POP) service provider. Our services are tailored for emerging and established carriers looking to establish POP in USA, Europe or Asia. vPOP service is currently used by European, Asian and Latin American carriers who are looking to get better exposure to US originated traffic.
R&R has strategically placed switches in New York area, as the area with highest density of immigration population. We chose US for our core service offering since US is the single largest traffic originating country in the world, accounting for over 30% of worldwide international traffic according to Telegeography.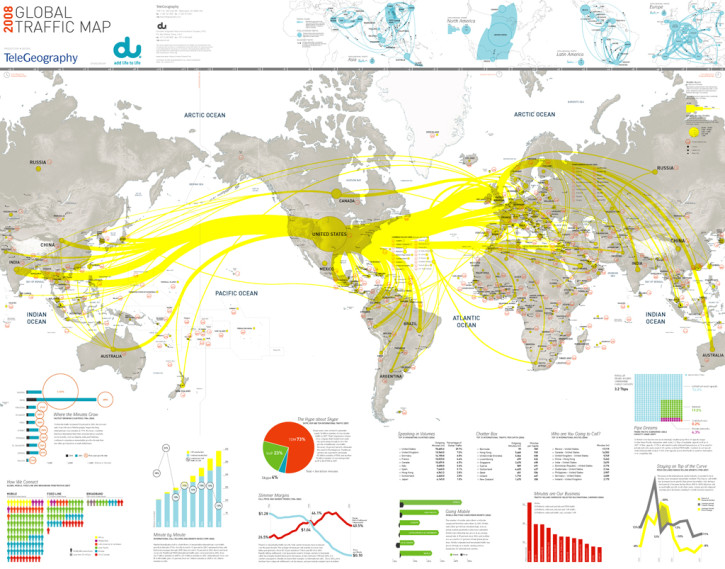 Image © Telegeography.com
Benefits of Virtual POP
Mitigate Risks
Minimize upfront expenses and upfront project risk
Avoid long-term service commitments with colocation and other service providers
No risk of equipment obsolescence
Risk of running out of cash
Grow sales and find new opportunities
US has over 5,000 registered CLECs and ILECs
Many more resellers and traffic aggregators
Each ethinicity has presence in US market
All major telecommunication firms have presence in the US